Flooding amid rain and melting snow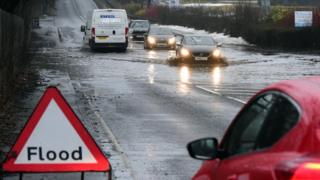 Persistent rain and melting snow have caused flooding across the country, as the Scottish Environment Protection Agency (Sepa) issued multiple alerts.
Police have warned that there is severe flooding on the A92 between Dundee and Montrose.
Two flood warnings and eight flood alerts have been issued by Sepa for eastern, southern and west central Scotland.
And in Fife, a primary school has been shut along with several roads.
In the north east, ScotRail said flooding between Dyce and Inverurie had closed the line and meant services could not operate between Aberdeen and Inverness.
Police said there were numerous flooded roads between Stonehaven and Arbroath while many routes throughout the north east have been affected by heavy surface water and areas of flooding which are creating "hazardous" driving conditions,
In the Borders, Sepa warned that the Eye Water was threatening low lying areas between Grantshouse and Eyemouth.
Park Road Primary and nursery in Rosyth has been closed due to flooding, with Fife Council warning that some homes nearby may also be at risk.
Police said the A92 problems were at various locations and traffic is currently down to one lane eastbound from Ardestie Toll.
A spokesman said it was expected that the weather conditions would continue for the forseeable future with the possibility of a full road closure.
Drivers are advised to avoid the road if possible and use an alternative route.
Across the region, coastal routes including the A915, A921, A955 and the A939 have all been closed due to flooding.
Sepa said Harbour Road in Eyemouth in the Borders was the main area at risk, with businesses near the harbour and vessels moored there also affected.
Flood alerts have also been issued for Aberdeenshire, Tayside, the Lothians, Dumfries and Galloway and west central Scotland.
Temporary shut down
The warnings come in the aftermath of last week's freezing weather, which brought heavy snowfall to much of the country.
The freezing conditions caused the temporary shut down of many businesses from Wednesday afternoon into Thursday as people were advised not to drive in heavy snow.
At Holyrood, the deputy first minister defended Police Scotland's handling of the severe weather after hundreds of motorists were stranded overnight on the M80 motorway.
The Conservative MSP Margaret Mitchell raised concerns that "miscommunication" delayed the police response.
However, John Swinney said officers were on the ground from the minute difficulties arose and that drivers were warned not to travel.
Mr Swinney said: "Anyone listening to those warnings should have thought twice about going anywhere near the M80, because it is no surprise to any of us that the hills up and down at Castlecary cause these difficulties during winter.
"I assure Margaret Mitchell that police were absolutely all over the incident."
Mr Swinney's comments come after Nicola Sturgeon and the Scottish Trades Union Congress agreed to draw up a severe weather charter for employers.
It follows criticism that some staff were pressured to work during last week's red weather alert.
The charter will set out how staff should be treated when such an alert is issued and give examples of good practice when bosses are fair and flexible.
The first minister and the STUC leadership agreed that the rights of workers not to be at work in extreme weather should be protected through new legislation at Westminster, which controls employment law.