Elaine C Smith: 'I haven't been sexually harassed since I was 29'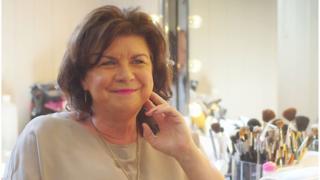 When comedy actress Elaine C Smith started her career, women were dismissed as not funny and sexual harassment was rife.
"I haven't been sexually harassed since I was 29," she says.
That was the age at which she achieved national success as part of the comedy sketch show Naked Video.
"It's because I've had power and visibility since then," she says.
"I'm also known as lippy. I would be a woman that would possibly stop you."
The 59-year-old has previously spoken of dozen of incidents of sexual assaults and harassment when she was in her twenties.
These include being propositioned by a photographer, attacked backstage in a Kirkcaldy theatre and assaulted in Princes Street in Edinburgh.
Last year's revelations about Hollywood movie mogul Harvey Weinstein have led to thousands of women sharing their stories of abusive behaviour.
Elaine says the debate should not really be about Hollywood stars but instead should concentrate on those who have no power and risk losing their job if they report abuse.
She says those same men who abused her would have moved on to prey on more vulnerable and less powerful women.
Elaine, who has two daughters, aged 23 and 30, says she is pleased about their awareness and the language they use about the issue.
As well as harassment, the industry was also pretty sexist when she started out, Elaine says.
Even long-established comedy legends such as Rikki Fulton and Jimmy Logan told her women were not funny.
It was a women's role to look lovely and feed the gags, Elaine says.
"To their credit both of them wrote to me, in fact Jimmy Logan phoned me up and said 'I was wrong'."
She says she also got a "beautiful letter" from Rikki Fulton after her first one-woman show.
Elaine, who will be 60 in August, is difficult to "pigeon-hole", having had success as a TV and stage actress, singer, comedy stand-up and raconteur.
She says her philosophy is "just keep moving, you'll be less of a target".
Her latest project is bringing her one-woman show, Burdz Eye View, to Glasgow's King's Theatre later this month as part of the city's comedy festival.
She says her stand-up routine originally came about years ago when she was performing one-woman shows based on music memories.
"When I was doing my one woman show I would gab between numbers and people were laughing," she says.
"That became bigger than the actual songs."
She says in the early days her brand of comedy was criticised for not being edgy enough because it did not have the macho put-downs of the male comedians.
She says she was also accused of not liking men because she did material about the madness of male behaviour.
"They ignored the fact I was also saying 'look at us women, we are crazy'," she says.
"The first thing I do in my show is go through what I'm wearing and who does my hair and where I got my jewellery. Then I say 'right, now you can listen to me'.
"Because what we do is we sit and we judge women on the way they look.
"It's how we compete with each other."
In her shows that leads on to a joke about a friend who has a PHD in biophysics and when congratulated says: "Yes, but I look fat in the graduation pictures".
"I have started to get women in the audience to turn to each other and tell each other how great they look," Elaine says.
"It's an Oprah-spiritual thing."
Female comedy is different to a male approach, she says, and she uses an interesting analogy.
"It's not wham bam, thank you mam," she says.
"It's gentle and it comes in waves and you might reach it or you might not."
Elaine says she likes her comedy to "meander" enjoyably before reaching a satisfactory point in the end.
However, she says she is always careful not to preach or lecture her audience and would hate to make them feel uncomfortable.
"Maybe that's my bete noir," she says.
"I would hate people to walk away feeling that they had been hammered over the head about something."
Elaine says that 30-odd years ago when she began her career she would not have believed the path it has taken.
She grew up in Newarthill near Motherwell and studied at the Royal Scottish Academy of Music and Drama in Glasgow in the late 1970s.
She was teaching drama in Edinburgh when her big break came a few years later.
Legendary theatre producer John McGrath gave Elaine her first job and she developed her skills in his 7:84 company and its off-shoot, the Wildcat theatre company.
She says it was a fantastic training ground and the place she learned to turn her hand to anything.
"You had to sing, I played keyboards, you had to act different roles," she says.
From there she did comedy sketch shows such as the massively popular Naked Video in the late 80s.
This led on to her most famous role as Mary Doll, the long-suffering wife of Rab C Nesbitt, which ran for 10 series, making a comeback about a decade ago.
Her latest comedy creation, Christine in Two Doors Down, is more like Rab than Mary, she says.
"She's like a man," Elaine says.
"She just thinks she can say whatever she wants unfiltered, regardless of how it lands.
"I think it is because she does not have a man to tether her."
Elaine says everyone knows a character like Christine, who men are quite frightened of and who have no interest in being sexually attractive at all.
She describes Christine as looking like a "puppy breeder".
"I think it was Germaine Greer who said there is something liberating about becoming the wee fat women in the grey coat," Elaine says.
"I now fully understand that."
Elaine has always been prepared to sacrifice vanity for a role, right from her early days.
"My rule is always to look in the mirror and ask 'is it funny?'," she says.
"It's about the type of performer you are," Elaine says.
"If you are a woman that wants to look good, it is going to be difficult."