Sydney Devine tours again despite heartbreak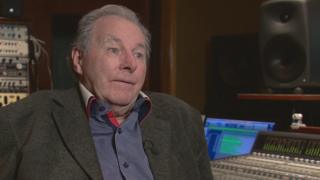 Scottish singer Sydney Devine has decided the show must go on just weeks after the death of his son from sepsis.
The legendary crooner was devastated when 58-year-old Gary died in hospital in Kilmarnock from multiple organ failure but he has decided to go ahead with his first Scottish tour in almost 20 years.
"There was a point when I didn't know if I could go through with it," Devine told BBC Scotland.
"There are so many heartbreaking songs and I thought: 'Can I really get through this?'
"Two days after the funeral I got my guitar out and I thought, 'Hey, I've got some work to do here' because people who have booked for this tour will be depending on me to be at my best.
"I owe it to myself and I owe it to my departed son to go and give them the best show I could possibly do."
Sepsis kills about 3,500 people every year in Scotland and is caused when the immune system overreacts to infection.
Early identification is critical and treatment within an hour is vital to reducing the death rate.
New word
The 78-year-old grandfather-of-eight said he had been unaware of sepsis before his son's death.
"It was a new word to me," he says.
"I have been told that if you don't diagnose it in the first hour you have absolutely no chance at all.
"It attacks everything in your body, your liver, heart, the whole lot."
Devine, who lives in Ayr, adds: "My son went into Kilmarnock hospital and they tried everything.
"It is just like blood poisoning but how do you get that? It's quite frightening.
"People should be made more aware of this because it is one of the biggest killers in Scotland."
The singer's own ill health has prevented him from touring in recent years.
A decade ago he considered retirement after a serious heart operation following two aneurysms in his aorta.
He says: "Performing is not a necessity but I enjoy it.
"It is not something I must do but when I start rehearsing it is very rewarding for me.
"It's not a financial thing really. I like performing and it keeps me fresh."
Devine, who was born in the Lanarkshire mining village of Cleland in 1940, has been performing since he was 13.
He was spotted whistling and singing at local shows and offered a spot on a BBC Children's Hour programme in the very early days of TV.
Scottish tenor Robert Wilson, a well-known variety performer and in the 1950s an early presenter of the White Heather Club, took the young Devine under his wing.
He would spend more than a decade performing around the world with the White Heather Group before later developing into country music in the 1970s.
Throughout his long career, Devine has sold millions of records and is forever associated with songs such as Tiny Bubbles.
He says he was on his way to Australia in the mid-60s with famous Scottish music performer Andy Stewart when he came across his most memorable tune.
During a stop-off in Hawaii he saw Don Ho and heard the song Tiny Bubbles for the first time.
"I went out the next day, bought it, learned it and the rest is history," he says.
"For every job, if you are in the right place at the right time doing the right thing, you have a fair chance."
Audiences always demand Tiny Bubbles as well as tunes such as Legend in My Time, Scotland Forever, The Answer to Everything and Maggie.
"If you didn't do these songs in the programme they'd lynch you," he says.
For the past four decades he has played annual shows at the Pavilion Theatre in Glasgow.
But his new tour will take in venues such as the Tivoli in Aberdeen, where has not played for 60 years.
The Tivoli became a bingo hall in the 1960s and has only recently returned to being a theatre but Devine remembers the last time he was there - because he met his now wife Shirley.
She was sitting in the front row and after the show finished he invited her back stage.
They have been together since.
At the height of his career, Devine appeared on the Queen's Jubilee bill with Michael Jackson, supported Roy Orbison and worked with country legends Charlie Pride and Dolly Parton.
But despite his success, he has had his fair share of ridicule over the years.
For every fan who thinks he is one Scotland's greatest performers there is a joke about his painful crooning and sartorial bad taste.
"After 62 years it's water off a duck's back," he says.
"I compare myself to marmite, some people like me and some people don't but I haven't done anybody any harm, I don't think."