'How Kylie Jenner helps my social anxiety'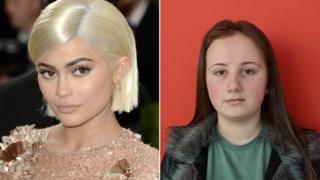 Like many 18-year-olds, Saffron Scullion is a keen user of social media and a big fan of the Kardashian family.
But unlike most teenagers, she rarely leaves her home.
Saffron suffers from crippling social anxiety and is often unable to face the outside world.
Despite her condition, the young woman from Castlemilk in Glasgow has amassed more than 100,000 followers on Instagram.
A fan page she set up dedicated to Kylie Jenner has become a huge hit and she credits it with helping her tackle her health problems.
She told BBC Radio Scotland's Kaye Adams Programme that her problems began in 2013.
She said she had been feeling anxious about school and exams but she did not tell anybody about how she was feeling.
"Basically one day I was just on the bus and I had a really bad panic attack," she said.
"From that day I haven't left the house even for doctor's appointments - for anything really."
She was eventually diagnosed with chronic anxiety last year.
What is anxiety?
Most people feel some form of anxiety - tense, uncertain, fearful - ahead of an event like an exam or job interview. If everything goes well, it usually goes away.
However where the feelings become overwhelming, they can affect concentration and make it difficult to deal with day-to-day life.
If anxiety becomes severe, it can leave people feeling powerless, out of control, as if they are about to die or go mad.
Sometimes it can lead to a panic attack.
Source: SAMH
In June, Saffron set up the Kylie Jenner fan page in a bid to tackle the boredom she felt at being at home all of the time.
"I'd always been a fan of Keeping up with the Kardashians and all the drama and stuff, always supported it and I really took a liking to Kylie," she said.
"As I wasn't leaving the house, I was really bored and I didn't really have much to do so I just thought I'm going to make a fan account and see how it goes."
Her first two posts earned her 400 likes on the photo-sharing website, as well as lots of positive comments.
"It really made me smile and I hadn't smiled like that since leaving the house so I was really overwhelmed by the support that I got," she said.
Now Saffron spends time every day posting photos, making edits and chatting to her followers.
Last month she celebrated the account gaining its 100,000th follower.
"I thought it would be a normal fan account with 400 followers at most," she said.
"It's gone way higher than I thought and I'm talking to people I never thought I'd speak to."
Among those who contact her are others who suffer from anxiety. She said she likes to give them advice and the account has helped her condition.
"I guess it helped my anxiety in a way, it puts my mind off it a lot," she said.
"It helps me out to know I'm not the only person out there with these issues."
Saffron's mother, June, said her daughter has good days and bad days but the Instagram account was definitely helping her.
She said she was committed to helping Saffron overcome her anxiety.
"It is very, very tough because my life is on hold because Saffron can't be left in the house by herself," she said.
"She doesn't leave the house so if I go to the local shops, I have to have someone in the house with Saffron.
"So it's been quite a struggle but like I said, I'm just being a mum."
If you or someone you know has been affected by mental health problems, these organisations may be able to help.