ScotRail staff in Scottish Cup Final strike threat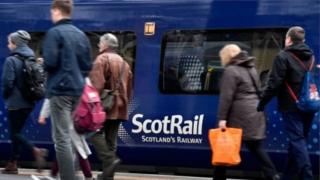 A strike from ScotRail staff on the weekend of the Scottish Cup final has been proposed by a union.
The TSSA has threatened to consult members in a row over CCTV monitoring staff.
The union claims staff are "overstretched" following acceptance of 17 applications for voluntary redundancy from 22 specialist staff.
The union is holding talks with ScotRail and wants staff numbers to return to previous levels.
If ScotRail bosses do not agree, TSSA general secretary Manuel Cortes plans to raise the issue with transport minister Humza Yousaf in a meeting on Wednesday.
Unless a solution is found, the union will then consult members on striking over the weekend of 19 and 20 May, when Celtic play Motherwell in the Scottish Cup final on the Saturday.
Mr Cortes said members have warned ScotRail that its "constant reorganisation is damaging their ability to keep the network secure".
'Satisfactory solution'
He said: "Left to their own devices, Abellio's regard for safety has left us running our railways in Scotland on a wing and a prayer.
"We have crisis talks with Abellio tomorrow but, frankly, I'm not hopeful that they will see the light.
"If Abellio have not found a satisfactory solution by the end of tomorrow's talks, then it falls to Humza to order them to sort the problem out.
"If not, our members will be consulted on striking over the Scottish Cup final weekend in May."
Earlier this month, TSSA members voted by majority in favour of strike action.
ScotRail earlier said changes would enhance safety and suggestions otherwise were "wrong and misleading".