Celebrities in film to back the National Trust for Scotland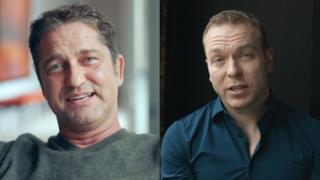 Actor Gerard Butler and cyclist Sir Chris Hoy are among a string of celebrities backing a new campaign for the National Trust for Scotland.
They reveal what they love and hate about Scotland in a new film, For the Love of Scotland.
It also stars Scotland football manager Alex McLeish, tennis coach Judy Murray and musician Evelyn Glennie.
The National Trust for Scotland (NTS) aims to boost member numbers by more than a third to 500,000.
It also wants to more than double paid visits to one million, and to increase regular donors and member visits over the next five years.
The stars are joined by a host of NTS supporters in the three-minute film.
Sir Chris Hoy reveals he hates potholes but loves how Scots can be the best in the world, while Gerard Butler says he loves mountains, lochs and glens and Robert Burns, but hates midges and drizzly rain known as smirr.
Tennis coach Judy Murray hates when "rain stops play" but loves the country's national treasures, while Scotland football manager Alex McLeish hates "glorious defeat", but loves how Scots all pull together as a team.
NTS spokesman Mark Bishop said: "Everything we do is for the love of Scotland. The hundreds of thousands of members, donors, volunteers, visitors and staff do what they do because they care about Scotland and we thought it was time to recognise that.
"The National Trust for Scotland isn't just here for a lovely day out, it stands for something much bigger than that.
"We're about coastlines and castles, art and architecture, wildlife and wilderness. We're here to protect our natural and national treasures for everyone to enjoy."
Caring for Scotland
He added: "In creating this campaign, we've been heartened by the extraordinary passion we've tapped - from multi-award-winning actors and sporting royalty to our hard-working staff and volunteers and everyone else who champions our work.
"We have harnessed that support to help us shout louder about the important role we play in caring for Scotland now and forever."
NTS was set up in 1931 for the "preservation and conservation of natural and human heritage that is significant to Scotland and the world".
It looks after sites ranging from castles, gardens and historical houses to battlefields, Munros and nature reserves.