Captain's stolen plaque returned to Greenock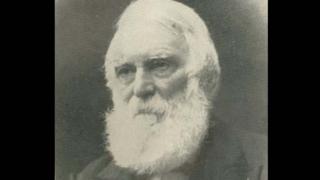 A plaque which was stolen from the grave of a 19th Century sea captain has been restored and returned to Greenock.
The copper panel was taken from a memorial in Greenock graveyard almost five years ago but thanks to a little detective work from police, historians, family and friends, it has not only been recovered but restored and returned to the town.
The panel was made as part of a memorial to Donald Brotchie, a sea captain and Temperance campaigner and it depicts him preaching to sailors in the town in the 19th Century.
According to local historians, Captain Brotchie arrived in Greenock in about 1850 and devoted his life to missionary work, aboard his own ship The Bethel.
He prayed with incoming ships, and with those departing the port, and gave them copies of his sermons to take to sea.
When he died in 1889, ships in Greenock harbour flew their flags at half mast and the people of the town raised the money to build the memorial.
The plaque was stolen in 2013 and would have been scrapped without the intervention of two local policemen from Greenock Neighbourhood Team.
Constables James Quigg and Paul Cosgrove (now a detective sergeant) discovered the plaque badly scratched and almost folded in half.
An appeal in the local paper for the owners of the plaque took them to a local history group, which included Lillian Newman, who leads tours of Greenock Graveyard.
"I love the cemetery and Brotchie is one of the ones we always include, a beautiful stone and a great story," she says.
"I opened the Greenock Telegraph one night and saw they were looking for information. I called them up and was able to show them a photograph of it on the stone."
But there was one more twist which, like the sea-faring captain it pays tribute to, took the plaque around the world and back again.
Colin MacGregor was born and raised in Greenock but now works in Australia, as a museum conservator.
He is also the great, great grandson of Donald Brotchie.
He returned to Scotland to see the plaque for himself after the family had it returned to them.
"I'd heard so much about it that it was quite distressing to see it in such a state," he said.
"It was very badly damaged, splits in it, the paint was peeling off.
"It was distorted. It seemed like a job which would take quite a lot of effort to get it fixed up again but I thought, it's part of my family history so I really wanted to take the job on."
It took several years to restore but Colin returned to Greenock to hand over the restored plaque to the McLean Museum.
Among those present at Inverclyde Heritage Hub, were members of Inverclyde Council, Greenock Police, local heritage societies and relatives of Captain Brotchie.
"The price of copper nowadays is too much of a temptation so we decided it was too risky to return it to the memorial and we'd rather give it to the museum as part of their maritime history of Greenock," Colin said.
"Hopefully we'll get a replica so that people can appreciate the original memorial."
PC Quigg was also pleased to play his part in the story.
He said: "There's a lot of people who work in policing in Inverclyde who are local people and care about this area and have family themselves buried in that cemetery so to think someone would desecrate a grave for a few pounds of scrap metal is sad.
"The plaque is priceless to the family so we were delighted to play our small part."
And for Lillian and her fellow graveyard guides, it's another story for the tour.
"I didn't think we would ever see it again," she says.
"It's lovely to have it back. He was such an important figure in this area, and beyond.
"Someone asked me the other day for a 'wow' moment, and that's a 'wow' moment for me."