Homes sought for escaped snakes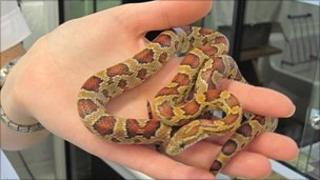 Homes are being sought for three stray pet snakes that have been found slithering around Edinburgh.
The Scottish SPCA is caring for the corn snakes at its Edinburgh and Lothians Animal Rescue and Rehoming Centre.
One was found on Saturday 21 August on Commercial Street and another outside the Edinburgh Woollen Mill on Princes Street on Sunday 22 August.
The third snake is an albino hatchling found on 26 August on Gilmerton Road.
Kenny Sharpe, Edinburgh and Lothians Animal Rescue and Rehoming Centre assistant manager, said: "Corn snakes make popular pets as they are small and typically quite docile and easy to handle.
"However, they are fantastic escape artists who can easily get out of a vivarium if the lid is not properly closed or weighed down.
"It's quite common for us to rescue corn snakes from all sorts of situations, often bathrooms in blocks of flats.
"We think they may use the drain pipes to move from one property to another.
"These snakes are all in good condition and would make good pets for someone who has the appropriate experience and accommodation to be able to care for them.
"And if anyone has recently lost a corn snake then we'd invite them to get in touch, as they could find their escaped pet here."