Teenager admits killing Edinburgh takeaway driver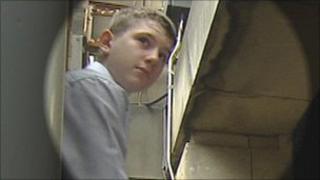 A teenager has admitted killing a takeaway delivery driver in Edinburgh.
John Reid, 16, pleaded guilty to culpable homicide following the attack on Simon San, 40, in Lochend Road on 11 August, who died the following day.
Mr San suffered severe head injuries outside his family's takeaway, Yong Hua Garden.
Reid, from Edinburgh, is due to be sentenced later. Three other youths are also to appear later in connection with lesser charges surrounding the assault.
Relatives of the takeaway delivery driver earlier said Mr San was a "shy" man who shunned violence.
Solicitor advocate Jim Stephenson, defending Reid, said: "His guilty plea shows that he has accepted his responsibility. He has had difficulty coming to terms with what happened and never intended for Mr San to die.
"He will have to live with the consequences for the rest of his life.
"He wanted to be accepted by the group that was out that night.
"He maintains there has never been any racial element to his crime.
"He appears to have been encouraged by the group."
Outside the court the San family's lawyer Aamer Anwar, said: "The San family will never stop grieving the loss of their much loved innocent son and brother.
"He came to this country with his family as a young boy aged 12.
"He was a hard working, loyal, young man, who never caused anyone any harm.
"The family have many questions and concerns and will meet with Lothian and Borders police next week."
A Lothian and Borders Police spokeswoman said: "We acknowledge the guilty plea that was tendered on Wednesday, which is the result of an intensive investigation.
"From the outset, it was a priority to identify whoever was responsible for this violent unprovoked attack, and as a result John Reid was identified and charged in connection with Mr San's death.
"However, our thoughts are with Mr San's family first and foremost as we know this will never compensate for the death of their loved one."
Mr San, who was of Vietnamese origin, was found by a barmaid from the nearby Loch Inn pub.
He was taken to the Edinburgh Royal Infirmary, where he died.
The case was heard at the High Court in Edinburgh.
Reid will be sentenced at the High court in Greenock on 16 October.