Museums revamp 'could bring £10m boost'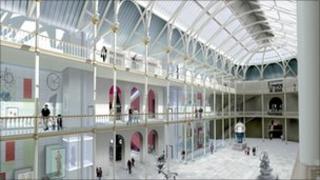 The National Museums of Scotland will contribute nearly £10m extra a year to the nation's economy after its refurbishment, a report has claimed.
The Edinburgh attraction is expected to generate £58.1m a year when it completely reopens next summer following a £46m revamp.
The study said it was expected to support the equivalent of 2,611 jobs within the first full year.
The independent report was carried out for the museum by Biggar Economics.
The museums receive a £21.1m annual grant from the Scottish government.
The study said the main museum had been worth £48.8m to the economy before it was partially closed for refurbishment in the spring of 2008.
That was based on visitor numbers, its value as a conference and events space, the number of staff working there and the value of goods and services linked to the attraction.
Dr Gordon Rintoul, director of National Museums Scotland, said: "This report underlines the significant economic benefit that the redeveloped National Museum of Scotland will bring to Edinburgh and Scotland when it opens next summer.
"It shows the real financial contribution that we make to Scotland's economy, both through the visitors we attract and the projects, business and employment that we support through our activities.
"Our museums and collections are a key social, cultural and educational asset for our nation, and this report confirms our place as one of the key contributors to the competitiveness of Edinburgh and Scotland's unique tourism offer."