Edinburgh Waterfront in future rates scheme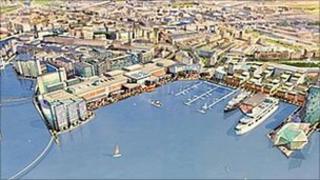 An £84m project to revamp Edinburgh's waterfront has been given the go-ahead to use future business rate revenues to fund the development.
The project includes a cruise liner terminal, lock gates, an esplanade and a new link road.
Edinburgh City Council will take out a loan to build the development and hopes rates from the new businesses in the area can be used to pay it back.
Finance Secretary John Swinney said the scheme was a first for Scotland.
The council claimed the development could trigger £660m in private sector investment and create up to 4,900 jobs.
New investment
Mr Swinney said: "Westminster cuts to the Scottish budget have emphasised the importance of finding new funding models to deliver crucial infrastructure projects such as the Edinburgh Waterfront, that can unlock further economic development, whilst ensuring maximum value for the public purse."
Edinburgh City Council leader Jenny Dawe said: "Attracting new investment is critical to the city's future and I warmly welcome the Scottish government's support.
"We produced a clear and compelling business case for the use of TIF (Tax Incremental Financing) to help transform Edinburgh's Waterfront into a more attractive area for living, working and leisure.
"Our aim is to kick-start growth, which will protect and create jobs now rather than waiting until the economy recovers."