Baker wins World Scotch Pie contest after 11 years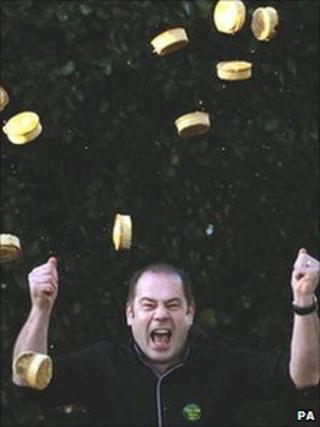 An Ayrshire baker has finally been crowned World Scotch Pie Champion after 11 years of trying at the Fife-based event.
Maurice Irvine, a fourth-generation baker from Beith, triumphed over an entry which included eight past champions.
The 50-year-old, who employs 45 people, has come second, third and fourth in previous years.
The World Scotch Pie Championships are held annually in Dunfermline.
Mr Irvine has a production unit in Beith and shops in Beith, Dalry and Kilbirnie.
He said: "I've won awards before for a number of products, but this is the big one.
"I'm told that I will put 30% on my turnover from winning this title and I'll be working hard to make sure that we do.
"I'm not telling you the recipe for the pies - that's a secret."
His great, great grandfather Thomas started the business in the 1920s and it was carried on by his grandfather Walter and father Thomas who retired 20 years ago.
Irvine's of Beith normally make about 60 dozen pies a day and Mr Irvine expects to increase that order substantially after his success.