Edinburgh Zoo software tool to help Brazil wetlands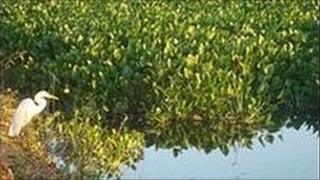 A tool developed by the owners of Edinburgh Zoo is helping preserve the wetlands of Brazil in South America.
The Royal Zoological Society of Scotland has created special software to help in the conservation of the Pantanal freshwater wetlands.
The ecosystem is under increasing threat from large-scale development and changes in land management practices.
The DeltaDiet tool helps scientists understand the nutritional needs and food gathering strategies of animals.
The result of six years of research, the software provides speedy analysis of faecal samples from plant-eating creatures.
'Important wildlife'
Dr Arnaud Desbiez, the RZSS regional conservation and research co-ordinator for Latin America, said: "To date over 250 plants have been characterised, leading to detailed manuals for plant families being published, and we have been able to examine the diet of several species through the different seasons of the year.
"This is particularly urgent since cattle ranching activities are intensifying and destroying important wildlife habitat.
"The DeltaDiet tool is ultimately key to developing a strategy to conserve the threatened Brazilian Pantanal, the largest freshwater wetland in the world."
The database is being made available for use by other researchers and will be continually updated with new data.
The development was announced to coincide with World Wetland Day on Wednesday.