Edinburgh Airport buys £1.5m snow equipment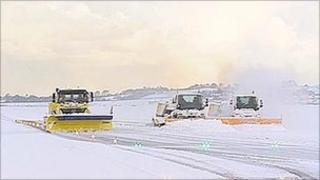 At least £1.5m of equipment has been ordered to help keep Edinburgh Airport open during heavy snow next winter.
BAA Scotland airside and autonomy director David Lister announced the move at the Scottish Parliament's transport committee on Tuesday.
Mr Lister said that extensive studies had been carried out at airports in various countries to find ways of remaining open during extreme weather.
The airport was closed several times in December and January due to snow.
Mr Lister said: "We are working on improving our processes.
"We have invested in at least £1.5m of new equipment for delivery at the end of this year for the next winter."
Mr Lister added that despite this, it would be impossible to give assurances that the airport would never close in future due to snow.
He said: "We only have one core runway, which means under extreme snow conditions, we will always be forced to close.
"Any airport which only has one runway is not able to guarantee it remain open under those conditions."