Edinburgh flatcoated retriever wins Crufts crown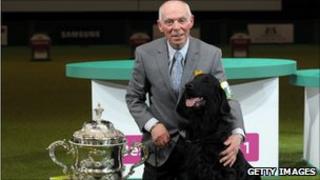 A flatcoated retriever from Edinburgh has won Best in Show at the annual dog show Crufts.
Nine and a half-year-old Jet beat off opposition from 21,000 dogs at Birmingham's NEC as Crufts celebrated its 120th anniversary.
Jet won the Best Gundog category and then went on to be crowned Best in Show after four days of competition.
Breeder Jim Irvine, from Queensferry, said: "It's just an unbelievable win, I'm just so happy."
He added: "In the dog world this is the ultimate prize, this is what everyone aspires to and normally I find it's always someone else who wins this.
"To have a good dog and to get this far is just unbelievable."
Jet's owner, Iain Ross, said: "I am over the moon, I can't believe it. It's a lifetime achievement, it's wonderful."
The Kennel Club said around 138,000 people came to watch the 21,422 dogs compete over the four days.