Edinburgh puppy killer given jail sentence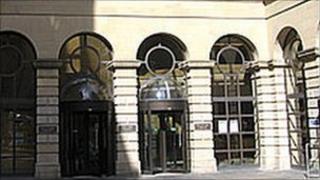 A man has been jailed for nine months for attacking his girlfriend and stamping two puppies to death.
Stuart Adams, 36, from Edinburgh, pled guilty to assaulting Lorraine Hogg on 22 January and to causing the two-week-old dogs unnecessary suffering.
Edinburgh Sheriff Court heard the puppy's mother tired to protect Ms Hogg, who was being assaulted by Adams.
He then kicked the dog, a Stafforshire terrier and collie cross, and killed the puppies.
Sheriff Isabella McColl said: "I have never come across anything like that before."
Dog kicked
Fiscal depute, Claire Bottomley, said it was about 0030 GMT when an argument started between Adams, who had been drinking, and Ms Hogg.
He punched Ms Hogg, causing her to hit her head on a cupboard door.
When Ms Hogg's dog ran to protect its mistress, Adams kicked the animal and made his way to where its litter of eight puppies lay.
He then stamped two of them to death.
Defence solicitor, Kim Schofield, said drink had played a large role in the incident.
Her client had shown a very high level of remorse and had been very distressed by the narration in court, she said.
Adams was also given a life-long ban on keeping any animals.