£2m funding boost for Edinburgh's festivals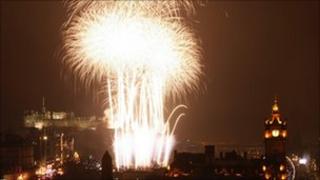 Edinburgh is to receive £2m to showcase cultural and creative talent at its world renowned festivals.
The Edinburgh Festivals Expo Fund is aimed at maintaining the "competitive edge" of the Edinburgh International Festival, The Fringe and Hogmanay.
It also designed to increase funding available to Scottish-based artists and encourage creative collaborations.
This year it is supporting a Festival Pavilion showcasing Scottish creativity and innovation.
It will also go towards a Made in Scotland programme presenting theatre and dance.
'Economic contribution'
Culture Minister Fiona Hyslop said: "Edinburgh is the world's premier festival city.
"That reputation is vitally important for the city and the whole of Scotland.
"Edinburgh's Festivals attract millions of visitors to Scotland year-round from across the globe, making a vital contribution to our economy.
"This year's funding will enable even more ambitious projects, which will support home-grown talent and stunning creative collaborations, thrilling audiences at home and internationally."
Made in Scotland at The Fringe will receive the largest share of the funding with £440,000, followed by Hogmanay, which will receive £250,000.
The other 10 city festivals will receive awards ranging from £180,000 for the Science Festival to £5,000 for the Edinburgh Military Tattoo.
Faith Liddell, director of Festivals Edinburgh, said: "Edinburgh's Festivals are a global magnet for visitors and media and an incredible springboard for national and international talent.
"The Scottish government's belief and continued investment in our festivals' ambitious programming ensures that Scotland's talents shine brightly when the eyes of the world are on Edinburgh."