Prison for Methil indecent assault pair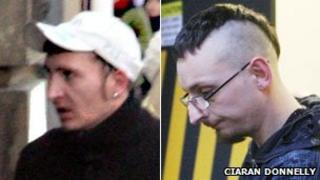 Two men from Fife who subjected a woman to an indecent assault in her home in front of two young boys have each been jailed for six years.
Stuart Hughes, 34, and William Williamson, 26, had denied the attack at a flat in Methil on 15 January 2010.
The woman was tied up and subjected to a sustained indecent assault, with the children made to join in at certain parts of the attack.
The pair had denied the offences at the High Court in Edinburgh.
Sentencing them, judge Lord Woolman said: "You caused the two boys not only to observe but to participate in certain parts of the assault."
High risk
He said that the victim was left "traumatised" by what happened and that the humiliation inflicted on her had a major impact of her life, with the woman becoming depressed, losing confidence, leaving her home and taking time off work.
Lord Woolman pointed out the pair had been assessed as posing a high risk of reoffending and ordered that they be supervised for a further two years.
They were also placed on the sex offenders register indefinitely.
The pair, both from Methil, had denied indecently assaulting the woman and using indecent behaviour towards two boys, aged six and 10, by attacking her in their presence and encouraging and causing them to take part.
But a jury at the High Court in Edinburgh unanimously found them guilty of committing the offences.
'Really drunk'
The woman said she was at home with her son after finishing work when Williamson and Hughes arrived with another woman.
"They had been drinking. They brought drink with them, Buckfast and vodka. They were fine when they first came to the house," she said.
But she said Williamson later became "really drunk" and Hughes was also drunk. They then attacked her.
Another man and woman arrived at her flat and some of her restraints were removed, with her attackers later leaving her home.
The woman later spoke to her mother about her ordeal and was taken to the police.