Edinburgh's Pilrig park brings 'edible' hedge to bloom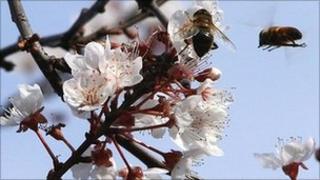 An 'edible hedge' is being planted to launch Edinburgh's Britain in Bloom bid this year.
The hedge, in Pilrig Park, will be made up of plants which produce edible crops to be used to produce local food such as jams, chutneys and jellies.
Rosehips, sloes, crab apple, elder, rowan and hazel will be planted.
Everyone in the local community will be able to help themselves and Pilrig Park School have produced a special recipe book using ingredients from the hedge.
Council officials said the project would also reduce the amount of graffiti in the area as a similar hedge planted last year showed an almost 100% reduction.
The scheme is a partnership project between the Edinburgh City Council and Greener Leith.
This year, Edinburgh is competing with Bristol, Milton Keynes and the Borough of Brent (London) in the 'large city' category of the Britain in Bloom 2011 competition.