Liam Tasker: Army dog handler's funeral held in Fife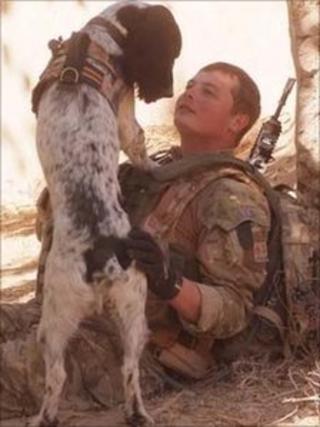 An army dog handler killed in Afghanistan has been hailed a hero as hundreds of mourners gathered for his funeral in Fife.
L/Cpl Liam Tasker, 26, from the Royal Army Veterinary Corps, was killed in Helmand province on 1 March while on patrol with his Springer spaniel Theo.
His family believe the dog, who died hours later from a seizure, died from a broken heart.
The Kirkcaldy soldier's funeral was held at Tayport Parish Church.
During the funeral, L/Cpl Tasker's brother Ian told mourners: "Liam was the best brother, son, grandson and indeed friend you could ask for."
Lt Col David Thorpe, commanding officer of the 1st Military Working Dog Regiment, described L/Cpl Tasker as a "natural dog man" who displayed an "uncanny empathy" with the animals during his training.
"It was obvious to all who encountered him that he would be a rising star in the veterinary corps," he said.
'Saved lives'
"It was as a AES handler that L/Cpl Tasker's talent really came to the fore.
"It is clear that the pride he took in his job came from the love he had for the dogs he worked with.
"He saved the lives of his friends and colleagues on numerous occasions. He was a hero."
The soldier became the 358th member of the British Armed Forces to die since operations in Afghanistan began in 2001.
L/Cpl Tasker's body and the ashes of 22-month-old Theo, who held the record for finding the most weapons and homemade bombs in Afghanistan, were returned to RAF Lyneham in the same aircraft earlier this month.
The repatriation was followed by a cortege passing through the Wiltshire town of Wootton Bassett, where hundreds of people lined the streets in tribute.