Lothian Buses increase fare prices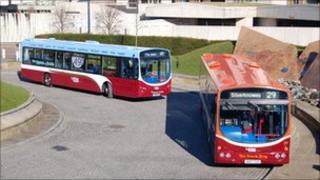 Lothian Buses is planning to raise the cost of an adult single fare next month as a result of rising fuel costs.
The price will rise from £1.20 to £1.30 from 3 April, while a day ticket will rise to £3.20.
Adult Ridacard fares will also go up, but all child and student fares will stay the same.
Bus officials have stressed that the single fare has not risen for more than two years. Lothian Buses last put up adult single prices in January 2009.
Ian Craig, managing director of Lothian Buses, said: "It's now more than two years since we last revised our ticket prices.
"The quality of service which we are committed to providing for our customers comes at a cost and we have now reached the point where we have to increase the prices of some of our tickets to ensure that we can continue to match the high standards which our customers rightly expect.
"Since we set our current fares in January 2009 the Retail Prices Index has risen by more than 9%, and the price of the fuel, which is our largest material cost, has risen by more than 40%."
A one-week Ridacard is to rise by £1 to £16, a four-week Ridacard by £3 to £48 and an annual Ridacard by £36 to £576.