Edinburgh International Festival 2011 unveils line-up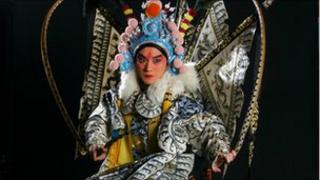 A Chinese version of Hamlet, a Korean take on The Tempest and a production of King Lear from Taiwan are among the shows which will feature in this year's Edinburgh International Festival.
The festival - which takes place in August - will this year focus on the cultures of Asia.
Among the productions will be the Shanghei Peking Opera Troupe.
The Revenge of Prince Zi Dan puts Shakespeare's Hamlet in China, with acrobats and Chinese opera singers.
Home-grown companies will include Scottish Ballet and the Royal Scottish National Orchestra (RSNO), demonstrating the influence of China on their own work.
The Edinburgh International Festival began in 1947 as "a platform for the flowering of the human spirit".
All artists and companies appear at the invitation of the festival director, a major contrast with the Edinburgh Fringe, which also takes place in August.
This year's international festival, which runs for three weeks from 12 August, features classical and contemporary music, dance, theatre, opera and visual arts from China, India, Indonesia, Japan, Korea and Vietnam, as well as North America, Germany, Belgium, Russia, the UK.
The National Ballet of China will perform The Peony Pavilion, based on a love story by one of China's greatest writers Tang Xianzu.
The Tempest is re-imagined by Mokwha Repertory Company from Seoul in a production weaving Shakespeare's famous tale with fifth-Century Korean chronicles.
King Lear is deconstructed as a one-man tour-de-force by Contemporary Legend Theatre from Taipei.
Orchestras taking part this year include the Seoul Philharmonic Orchestra.
Scottish Ballet and the RSNO will perform Kenneth MacMillan's ballet Song of the Earth, set to Mahler's song cycle inspired by Chinese poetry from the T'ang Dynasty.
Festival director Jonathan Mills said: "European artists, explorers and philosophers have drawn inspiration from the Far East for centuries.
"This festival draws inspiration from across the diverse cultures of Asia, from Vietnam to China.
"We very much hope people will come on this exotic and sensual journey and immerse themselves in the beauty and traditions of Asian cultures both ancient and modern."
Tickets go on sale to the public from 2 April.