St Andrews tent case driver jailed for beer theft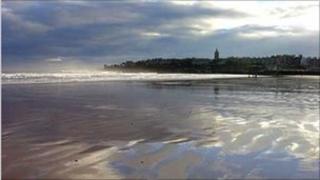 A Fife man found guilty of driving over his girlfriend as she slept in a tent has been jailed for four months for stealing a case of beer.
But David Owen, 21, has been told that he will not face a custodial sentence over the driving offence.
Louise Graham, 22, was left scarred after the incident on West Sands, St Andrews, in October 2008.
At Cupar Sheriff Court, sentence on the charge of driving culpably and recklessly was deferred until June.
Sheriff Charlie Macnair QC told Owen, from Dairsie in Fife, he did not consider the offence would attract a custodial sentence.
However, Owen was jailed after admitting stealing the beer from a Co-op store in Cupar while on bail.
Split up
In February, a jury found Owen guilty of taking Ms Graham's car while she slept and culpably and recklessly running her over with it while under the influence of drink.
The court heard how the couple, who have since split up, had driven to West Sands in St Andrews with friends.
Ms Graham, from Guardbridge, Fife, told how she fell asleep while Owen and the rest of the group sat drinking cider outside.
She said she then woke up to find the car on top of her.
She was left with burns to her arm, hand and stomach which needed skin grafts and months of treatment, leaving her permanently scarred.
The court heard that when the incident happened Owen demanded that none of the group phone an ambulance because he was scared the police would get involved.