Lower Largo scallops diver searched for by police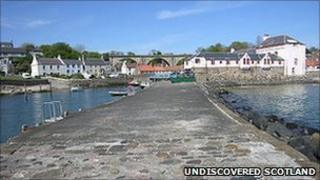 Police divers are to carry out an underwater search for a missing diver off the coast of Fife.
Earlier, an air and sea search to find the diver was called off after three hours.
Forth Coastguard was called at 1300 GMT to an area about 300yds (274m) off the coast at Lower Largo after a male diver, 42, went missing.
The search was called off just after 1550 GMT after attempts to find him on the surface failed.
The man was diving from a boat for scallops when he disappeared.
Another man on the boat managed to attract the attention of a member of the public, who then called the coastguard.
A Royal Navy rescue helicopter also joined the search in the Forth Estuary.
'Very good weather'
A coastguard spokesman said: "Forth Coastguard was contacted by a member of the public ashore reporting someone waving for help on a boat."
The coastguard eventually spoke with a crew member by telephone because the vessel's VHF radio was not functioning.
The spokesman added: "After a thorough search in very good weather conditions no sign of the missing diver was found.
"Forth Coastguard stood down the search units at 1550 GMT pending a search by Central Scotland Police underwater search team.
"The two men who remained on the boat reported that the man had surfaced during the dive in approximately 6m of water and requested more weights, but did not resurface after this."