Soldiers recreate Carey's historic 415-mile ride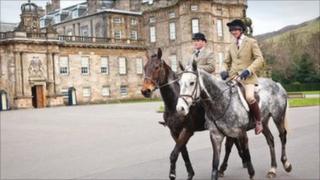 A former cavalry officer and a serving major have reached Edinburgh after a 415-mile charity trip on horseback.
Ewen Cameron and Major Neil Cross rode a succession of 160 horses over four days from London to raise money for the veterans' charity Combat Stress and Light Dragoons Colonel's Appeal.
The pair followed an historical route taken by Sir Robert Carey following the death of Queen Elizabeth I in 1603.
They reached the Palace of Holyrood House on Monday evening.
Their Great North Ride has raised more than £17,000.
Their fund-raising challenge won the support of the Prince of Wales, who wrote a letter of congratulations to the riders.
He wrote: "This is one of those rare challenges that with the advance of time and technology has not become any easier, and nor, I doubt, has the potential problem of saddle sores."
Neil Cox, spokesman for Combat Stress, said: "We are astounded and delighted at Ewen and Neil's incredible feat.
"Thousands of individuals like Ewen and Neil are raising awareness of the plight of veterans with wounded minds, and we hope that the public and politicians alike continue to support our appeal so that veterans can get the support that they need, when and where they need it."