Ross Hendry jailed for Musselburgh robbery stabbing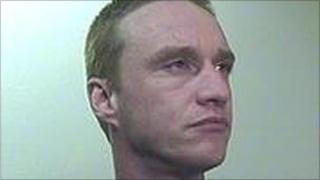 A man who stabbed a 27-year-old in his own home in East Lothian has been found guilty of murder and jailed for life.
Ross Hendry, 37, was given a minimum punishment period of 18 years for murdering Dennis Parker at his home in Musselburgh on 24 April 2010.
He was given a further two years for trying to dispose of the evidence.
His co-accused James Henry, 36, was jailed for 11 years and three months after being found guilty of culpable homicide at the High Court in Perth.
Hendry and Henry along with two female friends, hatched a plot to rob Dennis Parker of drugs and money after hearing how the frail eight-stone-heroin-dealer had been robbed twice previously.
They donned masks and took knives to Mr Parker's home, but ended up fatally stabbing him before trying to get away in a broken down car which needed to be pushed.
The jury was told that Hendry was still carrying the bloodstained knife when passers-by volunteered to help the gang push their getaway car to get it started.
After being granted immunity from prosecution, Gemma McGowan, 25, told the trial that she, Karen Cosgrove, Hendry and Henry had hatched a plan to go to Mr Parker's home and rob him.
She said she and Cosgrove were to go ahead and gain entry by telling Mr Parker they wanted to buy heroin from him, then send a phone message to Hendry and Henry.
She said the duo then burst into the flat wearing balaclavas and carrying knives and there was shouting and screaming as they demanded money and drugs from Mr Parker.
Hendry said his knife had plunged into the drug dealer as the two men fell onto a sofa when a brawl broke out during the late night raid on Mr Parker's home.
Hendry said he and Henry expected to counter little resistance from Mr Parker and were shocked when the victim pulled a sword out from the side of his sofa.
Hendry was also found guilty of assaulting John Scott during the same incident by striking him on the body with a knife to his severe injury and permanent disfigurement.
Lord Doherty told Hendry he took account of the fact the murder was not pre-meditated, but said Hendry had a bad record and had gone to the flat armed with a lethal weapon.