Simon San attackers' jail sentences cut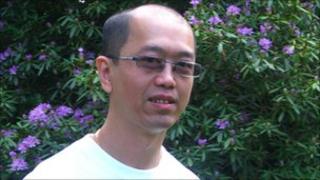 Two Edinburgh teenagers who took part in an assault on a takeaway delivery driver who was fatally attacked minutes later have had their jail terms cut.
Michael Roberts, 16, has had his 42-month sentence cut to 26 months. Keir Rodger, 16, has had his 34-month term cut to 24 months by appeal judges.
The pair pled guilty last year to an assault on Simon San, 40, by forcing him to leave his car by rocking it.
Mr San was killed by John Reid on 11 August 2010 Lochend Road, Edinburgh.
Last year Reid, 16, was ordered to be detained for five years in separate proceedings at the High Court for killing Mr San after admitting culpable homicide.
The victim died in hospital from head injuries.
'State of fear'
Roberts and Rodger at the Court of Criminal Appeal in Edinburgh appealed against the sentences imposed on them by Sheriff John Horsburgh QC.
Defence solicitor advocate David Taylor, for Roberts, said he was not involved to any extent in the assault which resulted in the death of Mr San.
Lord Clarke, who heard the appeal with Lord Mackay, said: "The outcome of these events was a great tragedy and a person has been given a sentence that reflects that.
"His car was rocked to such an extent he was put into a state of fear and alarm.
"But the attack which resulted in death had happened subsequently and was carried out by another person."
The incident happened close to the San family takeaway, Yong Hua Gardens, in Lochend Road in Edinburgh.