Net in East Lothian seized in salmon poaching crackdown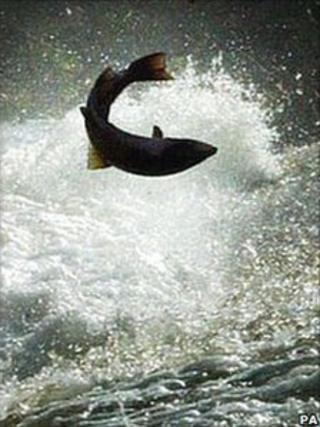 An illegal net set in an East Lothian river has been seized by police during a crackdown on salmon poaching.
Police officers removed the net, used to catch salmon during their spawning migration, at the River Tyne.
Lothian and Borders Police, Fife Constabulary and Central Scotland Police carried out the crackdown in February and March.
The River Tweed Commission, Forth District Salmon Fishery Board and Stirling Council also took part.
Salmon migrate from the sea to the upper reaches of rivers to spawn.
Police officers said that by placing nets across rivers, poachers can have a "devastating effect" on breeding salmon, as well as catching and drowning other animals such as otters.
Ruaraidh Hamilton, Lothian and Borders Police's wildlife and environmental crime co-ordinator, said the operation had sent a warning to poachers.
Hot spots
He said: "This initiative has sent a message to poachers that the three forces are serious about targeting their activities, and that we will use all the expertise at our disposal to do so.
"We will continue to work with water bailiffs across the respective force areas in order to enhance our knowledge, and we will continue to co-ordinate to target known poaching hot spots.
"Many angling clubs on the rivers operate a catch and release policy, and it is a great pity that all the good conservation work they are doing can be easily be undone by a poacher putting a net across a river.
"We are determined to prevent this from happening."