'Don't move fox cubs' warning from the Scottish SPCA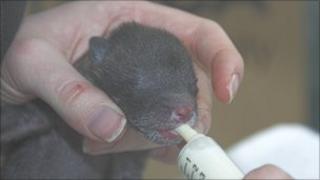 Injured or orphaned fox cubs should not be moved until animal welfare officers have checked them, an animal charity has warned.
The Scottish SPCA said the mother would not return to her cub if people were nearby or had moved it.
The call comes after an eight-week-old cub was found beside the Meadows in Edinburgh while a one-week-old was found abandoned in a Dundee garden.
The Scottish SPCA urged people to phone them about any abandoned fox cubs.
Colin Seddon, Scottish SPCA wildlife rescue centre manager, said they had named the eight-week-old Lennox and the one-week-old Logie.
He said: "We are currently caring for two fox cubs that were separated from their mothers and wouldn't have survived by themselves.
"Logie was only one week old when he was found outside the earth.
"He was far too young to be by himself so we're having to hand rear him.
"We also have Lennox, an eight week old cub found alone in Edinburgh city centre.
"Due to the busy location, his mother wouldn't have returned for him as she would have been frightened by all the people around."
Often, a vixen will not live in the same earth as her cubs and will only return at night to feed them.
Logie and Lennox will be released back into the wild when they are old enough to fend for themselves.