Human remains found in Livingston believed to be male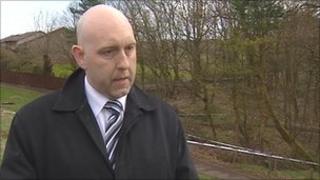 Human remains found in West Lothian during a hunt for a missing woman are believed to be male, it has emerged.
Police said the discovery of the remains at an embankment by the River Almond, in the Craigshill area of Livingston, on Monday, was suspicious.
They were looking for Mary Ferns, 88, also known as May, who has been missing for almost three years.
But forensic examinations later indicated the remains have "distinctive male aspects".
Det Insp Phil Gachagan, who is leading the inquiry, said it was too early to determine the identity of the remains.
In a statement, Lothian Police said the remains were found in "suspicious circumstances" by officers in an area of undergrowth "not easily accessible".
The force said: "A police cordon is in place while inquiries continue at the scene, and a forensic examination of the remains will take place in due course."
'Painstaking inquiries'
Det Insp Gachagan said: "We are appealing for anyone with any information regarding these remains, to get in touch.
"It may be some time before this person is identified, as they have been at the scene for a significant amount of time, and painstaking inquiries will have to be carried out.
"A number of forensic experts are currently excavating the area where the remains were found, and inquiries will have to carried out to establish whether any criminality was involved."
Mrs Ferns was last seen leaving her home in the Howden area of Livingston at about 0930 BST on 17 June 2008.
Police had searched the River Almond when Mrs Ferns first disappeared but recent new leads caused them to search the specific embankment area where the remains were found.
The force has urged anyone with information about the case to come forward.