Human remains found in Livingston might be older man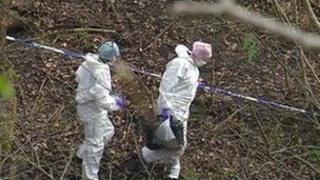 Human remains found on an embankment in West Lothian have been "there for a number of years" and could be from an older man, police have confirmed.
Police said the discovery of skeletal parts, by the River Almond in Craigshill, Livingston, on Monday, are now not being treated as suspicious.
Missing person databases are being searched by police.
It had been thought they belonged to pensioner, Mary Ferns, 88, who has been missing for almost three years.
However, police have now confirmed the remains have "male aspects".
Man's clothes
The "badly decomposed" bones have now been removed from the site for forensic tests and ongoing searches are being made by police in the area.
Police said clothing found along with them suggested they could belong to an older man.
As well as local inquiries, investigations are now underway with the National Missing Person Bureau to try to identify the man.
A Lothian and Borders Police spokesman said: "Inquiries are underway to establish who this person is, and how they died.
"There is no obvious cause of death, and no apparent criminality.
"Forensic tests can be done to help identify the man, but at this stage we are appealing for anyone with any information regarding these remains to contact police."
Det Insp Phil Gachagan, of Lothian and Borders Police, said: "We are appealing for anyone with any information regarding these remains, to get in touch.
"It may be some time before this person is identified, as they have been at the scene for a significant amount of time, and painstaking inquiries will have to be carried out."