Samantha Wright murder trial hears of stranger warnings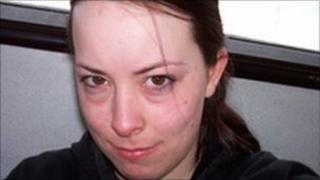 A woman whose partly clothed body was found in a rubbish bin was warned about speaking to older strangers just weeks before she was allegedly murdered.
Samantha Wright, "a social butterfly", appeared to ignore the advice, the High Court in Edinburgh heard.
Robert Chalmers, 59, denies murdering Samantha Wright "by means unknown" and hiding her body in a garden bin.
Prosecutors claim he murdered her at a house in Magdalene Drive in Duddingston on 12 or 13 June 2008.
Mr Chalmers blames another man, Vasile Ungureanu, for the death of Miss Wright, who was originally from Stevenage.
The trial heard how the 24-year-old struck up a friendship with John Holgate, 61, who lived on Edinburgh's Royal Mile and took her to a local soup kitchen.
Mr Holgate told the trial he had warned her about speaking to people there.
Wrong impression
"I said: 'Stop talking to these people. You are a young girl and they will get the wrong impression'", he said.
He told advocate depute John Scullion, prosecuting: "They might get the wrong impression that she fancies them."
"What was her reaction when you warned her?" asked Mr Scullion.
"She said: 'It is nice to be nice. I just want to be nice to people'", Mr Holgate told him. "She was very forward. She would just start speaking to the person next to her."
Mr Holgate first met Miss Wright because a boyfriend was sharing his address.
But the trial also heard how at the church-run soup kitchen Jericho House in Bristo Place, Edinburgh, Miss Wright told one of the regulars she found him attractive.
Kenneth Given, 29, said he had met her once before when he saw her order a glass of iced water in a pool hall in Edinburgh's west end.
"She came up to me and said she thought I was hot," Mr Given said. He invited her back to his room where she turned up "a couple of hours later".
She left the next morning, saying she was looking for drink, or money for drink and he never saw her again.
Hyper-active
Asked about the impression she made at Jericho House, Mr Given said: "Samantha was a bit like a social butterfly. She would drift from table to table and chat to different folk."
He described her as "chirpy, pleasant, a little bit hyper-active".
The trial also heard Miss Wright might have tried to call her boyfriend on the night prosecutors claim she was murdered by Mr Chalmers.
Mechanic Simon Sawers, 24, said he left Miss Wright's flat in Stevenson Drive, Edinburgh, after spending the night there in June 2008, because he was late for work on the morning of 12 June.
He had expected to meet her at a nightclub that weekend.
Mobile phone records show she tried to contact him at 2124 BST, but he could not remember the call.
Mr Sawers said his phone might have been switched off or in a spot where there was no signal.
About 16 months later, Miss Wright's remains were discovered, covered with foliage in a bin.
The trial before judge Lord Malcolm, which started on Tuesday, is expected to last about seven weeks.