£45m plans for Edinburgh Old Town site revealed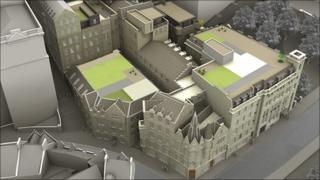 Work is set to start on a £45m development at the edge of Edinburgh's Royal Mile with a luxury budget hotel, offices, flats and two restaurants.
The £25m hotel, which will have 208 rooms, is to be filled by Motel One, which already has 32 hotels in Germany.
The Market Street site in a former Edinburgh City Council building is to be developed by Chris Stewart Group.
The site, which stretches towards Advocates Close, will take three years to complete.
There will be six offices and two self catering flats.
Chris Stewart, property developer, said: "Bringing Motel One in to anchor the whole development kick-starts the regeneration of a key part of the Old Town which will take place over the next three years."