Edinburgh tram falling out 'could affect other schemes'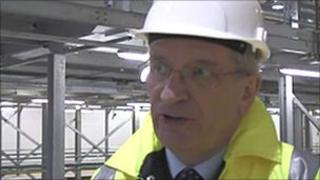 A tram campaigner has criticised the "public falling out" over the Edinburgh tram project saying it could prevent further schemes going ahead in the UK.
Geoff Lusher, chairman of the Light Rail Transit Association, said he was "very sorry" there was such a public stalemate over the £545m trams scheme.
Edinburgh tram project manager Tie and contractors Bilfinger Berger are locked in a bitter contractual dispute.
It is hoped the route will be finished by the end of 2013.
The contractual dispute has pushed the project over budget and behind schedule.
Mr Lusher said: "Most of the UK systems have gone through a number of internal wrangles, if I can call them that, between the various members of consortia, so maybe that lesson is to be learned somewhere.
"We are very sorry indeed that there has been such a public falling out.
"Maybe it had to be, but from where we sit it's a great shame because it, in fact, reflects on light rail generally and could, in fact, at the worst, prevent further schemes going ahead."