RBS chief Stephen Hester's £7.7m package agreed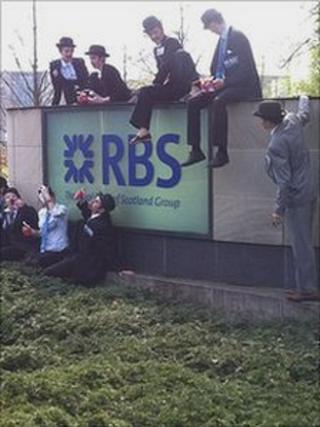 The £7.7m pay package awarded to Royal Bank of Scotland's chief Stephen Hester has been approved by the UK government.
UK Financial Investments (UKFI), which manages the taxpayer's 83% stake in RBS, gave its support despite a widespread backlash over the deal.
The deal was rubber-stamped at the group's annual meeting in Edinburgh.
RBS, which made a loss of more than £1bn last year, insisted it had to pay staff "fairly" to retain talented and motivated workers.
It emerged last month that Mr Hester was awarded an additional £4.5m potential shares windfall on top of his £2m annual bonus and £1.2m salary for 2010, which was not originally revealed under the Project Merlin agreement with the government to rein in pay.
RBS also admitted it paid 323 core staff - those deemed to be in risk-sensitive roles - £375m last year despite remaining in the red by £1.1bn in 2010.
RBS chairman Sir Philip Hampton told the AGM it had tried to strike a balance between paying to motivate people and showing restraint.
"We need talented and motivated people and we need to be able to pay them fairly," he said.
"It is important to remember we have to motivate all staff and that only a tiny minority were responsible for the problems RBS encountered, all of whom have now left."
But there were heated scenes during the AGM, which was attended by about 350, when shareholders challenged the board.
Comments made by Ken Cram, a private shareholder, who accused board members of having an "inflated idea of their own importance", were met by a loud round of applause.
He told Mr Hampton: "You're not irreplaceable, you're paid too much. Can you and Stephen Hester answer how you can justify your bonus when frankly customer service is going down the toilet?"
UKFI backed all resolutions at the bank's AGM, which included the re-election of the entire board.
Meanwhile, the RBS chairman warned that plans to force banks to separate retail from investment activities would put up costs for customers.
Sir Philip was responding to last week's interim report of the Independent Commission on Banking.
He told the AGM the reforms would also impact on shareholders, including the UK government.
Protesters demonstrated outside the AGM on Tuesday.
Representatives from some of Canada's First Nations were demanding RBS stop financing the controversial tar sands industry in Alberta, Canada.
Protesters said new research, published by a coalition of UK and North American NGOs, showed that since being bailed out with public money in 2008, RBS had raised £5.6bn in corporate financing to companies involved in Alberta's tar sands extraction and pipeline development.