McEwan Hall ruled out as Edinburgh Fringe venue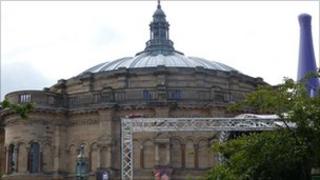 One of the biggest venues at the Edinburgh Fringe will not be available this year, due to renovations.
The 1,000-seat McEwan Hall was used as a festival venue for the first time in 2010.
But the University of Edinburgh, which owns the building, is carrying out repair work on the hall's organ.
Underbelly, the company which operates a number of festival venues, said it had been aware of refurbishment to the organ for sometime.
Spokesman for Underbelly, Fraser Smith, said: "The big hall is not available to us this year but a number of smaller more intimate spaces within the McEwan Hall are."
Last year, it hosted major Fringe shows such as Five Guys Named Moe, Flawless and John Bishop.
The additional of such a large venue helped to boost ticket sales for the Fringe last year, which reached a record 1.82 million.
The venue is named after William McEwan, the 19th century brewing magnate.
McEwan paid for the university's graduation hall which is regularly used for lectures, concerts and exams.