Ten in 'overloaded' boat rescued in Firth of Forth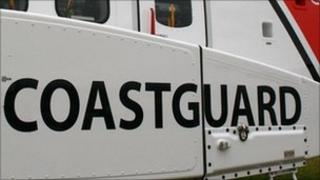 Ten people had to be rescued after a "dangerously overloaded" motor boat broke down, coastguards said.
The speed boat had launched at Port Edgar to cross the Firth of Forth on Friday.
But at about 1340 BST Forth Coastguard received a 999 call reporting three people in the water.
The men were recovered by an RNLI lifeboat from Queensferry and two were taken to hospital suffering mild hypothermia.
The vessel, thought to be about 15ft (4.6m) long, was towed into Dalgety Bay.
Simon Ward, a watch officer at Forth Coastguard, said: "Small leisure vessels come with a carrying capacity as recommended by the manufacturer, which should not be exceeded.
"With ten people on board this small sports boat it was dangerously overloaded."
Forth Coastguard also received a 999 call reporting a pedal craft with three people on board was in difficulty just outside Elie harbour in Fife.
Anstruther RNLI lifeboat recovered the individuals and towed the pedal craft ashore.
Mr Ward added: "Taking a water craft without consent is an offence, and pedalos are for fun in a designated area.
"Both of these incidents could have ended in different ways, had it not been for the callers ashore who spotted these people in difficulty."