David Hare film among Edinburgh Film Festival line-up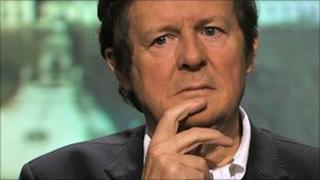 A film directed by Oscar-nominated screenwriter David Hare heads the list of films so far unveiled for the 65th Edinburgh International Film Festival.
Sir David's political thriller Page Eight, starring Bill Nighy and Rachel Weisz will have its world premiere at the festival in June.
Other highlights include Scottish director David Mackenzie's new sci-fi thriller Perfect Sense.
It features Trainspotting stars Ewan McGregor and Ewen Bremner.
The film festival, which runs from 15 to 26 June, has had a difficult year.
Its previous director, Hannah McGill, quit in August and the event has lost major funding awards and sponsors.
The organisers decided on a new approach which would include fewer new features, no red-carpet events and no awards.
Tilda Swindon
James Mullighan was appointed as the festival's producer, promising an "experimental" EIFF.
As well as Mullighan, it was announced that filmmaker Mark Cousins would be in charge of the 'artistic and creative vision' for the festival, working alongside Oscar-winning actress Tilda Swinton and former festival director Lynda Myles.
However, this approach soon ran into more problems, with the "dream" team distancing themselves from the project.
Swinton reportedly said her role had been overstated and she was only ever invited to make "general" suggestions.
It has already been announced that the Cineworld multiplex will no longer be used for screening.
The Teviot, the Edinburgh Student Union building that becomes the Gilded Balloon venue during the summer festival, will be the film festival's hub.
Mr Mullighan said: "The Edinburgh International Film Festival has long been regarded as the ideal launch pad for important new British cinema and the place at which UK emerging talent is nurtured.
"The films announced on Wednesday confirm that those twin traditions continue into 2011.
"Of the nearly 3,000 films submitted to EIFF, 58 were British feature fiction films and we're delighted to be in a position to showcase some of them to Edinburgh audiences in June."
The full festival programme will be announced on 17 May.
However, Page Eight, by Sir David, who was nominated for Oscars for The Hours and The Reader, heads a list of films announced ahead of that date.
Other films announced include Fast Romance, the debut feature from Scottish director Carter Ferguson.
It is a Glasgow-set romantic comedy depicting seven very different "singletons" searching for love.
Charlie Casanova is a crime thriller from first-time Scottish writer and director Terry McMahon.
There will also be world premieres of British films including Albatross, a coming of age drama directed by Niall MacCormick and starring Jessica Brown-Findlay and Felicity Jones, The Caller, a thriller from Matthew Parkhill, and Weekender, a comedy drama depicting the 1990s Ibiza scene and staring Jack O'Connell and directed by Karl Golden.
There will also be the European premiere of Angel's Crest, a British-Canadian small town drama directed by British-born Gaby Dellal and the international premiere of Stormhouse, the second feature from Dan Turner, a high-concept thriller depicting the military capture of a supernatural entity in a secret underground base.