St Andrews dismisses Syria centre criticism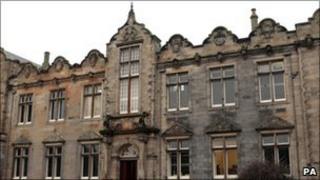 St Andrews University has dismissed claims it received funding negotiated through people connected to the current Syrian regime.
The Fife university launched a review into its Centre for Syrian Studies (CSS) following the uprising in Syria.
The review team said media claims that funding had been arranged by the Syrian ambassador were "highly misleading".
It also found no evidence the centre produced research which was prejudiced due to funding from a British and Syrian businessman.
The review team, led by St Andrews deputy principal professor Chris Hawkesworth, was set up following international concerns about the events in Syria.
Last year CSS head Prof Raymond Hinnebusch had said the centre could not have been established without the intervention of the Syrian ambassador to the UK, Sami Khiyami.
In an article last week, the Guardian newspaper had raised concerns about this, claiming that Mr Khiyam persuaded Syrian-British businessman Ayman Asfari to make a major donation to help set up the CSS.
Philanthropic interests
However, the review team found that Mr Khiyami had only introduced Prof Hinnebusch to Mr Asfari.
It said neither the Syrian Embassy nor Mr Khiyami had been involved in any discussions regarding the subsequent "generous donation" to the centre by Mr Asfari.
A statement by the team said: "The centre was established in 2006 to foster scholarship and dialogue about contemporary Syria, particularly in the areas of economic and political reform, and security and foreign policy issues, as well as exchanges between Syrian and other scholars.
"In 2006, the director of the centre, professor Raymond Hinnebusch, was keen to find a donor or donors to assist in funding the establishment of the centre. He sought the advice of the Syrian Embassy.
"The embassy introduced Professor Hinnebusch to Mr Ayman Asfari, the prominent British and Syrian businessman and founder of the Asfari Foundation, a recognised UK charity with a range of philanthropic interests.
"The university met Mr Asfari privately to begin discussions on a potential donation.
"Neither the Syrian Embassy nor the ambassador was involved in those discussions, nor did they in any way 'arrange' the subsequent generous donation.
"We have found no evidence that the source of funding for the CSS prejudices the outcome of our research, and we robustly refute the allegation that we should be in any way embarrassed by The Asfari Foundation's support of the CSS or the centre's contacts."