Bloodstains found at murder accused's Edinburgh house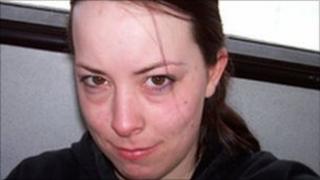 Traces of blood were discovered in an Edinburgh house and garden where a woman's body was found in a wheelie bin, a murder trial has heard.
The stains were found during 17 days of searching by scene of crime experts and forensic scientists in October 2009.
Robert Chalmers, who lived at the house in Magdalene Drive, denies murdering Samantha Wright "by means unknown" on 12 or 13 June 2008 and hiding her body.
The 59-year-old blames Vasile Ungureanu for Ms Wright's death.
Mr Ungureanu lived at Mr Chalmers' home on two occasions and also made other visits.
Ms Wright, from Stevenage, Hertfordshire, had been living in Edinburgh and was reported missing by her family in January 2009, on what would have been her 25th birthday.
Her body was found nine months later by police.
At the High Court in Edinburgh, force support officer Robert Young told how he helped police experts, a forensic archaeologist and an insect expert to comb Mr Chalmers' home.
Blood was discovered on the handle of the patio doors and on two of the slabs making up the patio.
In the smaller of two bedrooms, blood was found on the slats and mattress of a single bed, and there was blood on a wardrobe in the other bedroom.
The trial continues.