Edinburgh Airport bus service tender halted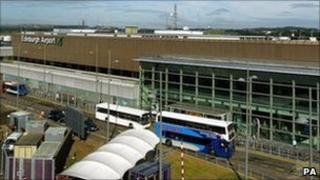 A judge has halted the tendering process for a bus service linking Edinburgh Airport to the city centre.
Lord Drummond Young said the proposals amounted to "a potential contravention" of competition legislation.
Lothian Buses went to the Court of Session in a commercial action against Edinburgh Airport Ltd.
The bus firm was granted an interim interdict to halt the tender process, and moves to end an agreement between the companies have also been suspended.
Lothian Buses runs an Airlink Service from Waverley Bridge to a dedicated stance outside the door to the UK arrivals hall at the airport.
It claims the service, on which it employs 48 drivers, is "a core part" of its commercial business.
In 2005 the companies reached an agreement under which the bus firm paid an annual fixed fee, plus a further amount linked to passenger numbers.
But in March this year the airport indicated that the exclusive access to the stance for a service to the city centre would be put out to competitive tender.
Lothian Buses argued that the result would be an effective monopoly and a serious risk to competition.
It claimed the result would "operate to the detriment of the consumer who will be very likely to have to pay significantly higher, and unconstrained, prices for the relevant service".
The airport said all interested parties were being given the opportunity to bid for the stance and disputed any breach of competition legislation.
Lord Drummond Young said: "It seems to me what is being offered in the tendering process is the exclusive right, with no competition whatsoever, to run a bus service to the city centre from these stances."
A Lothian Buses spokeswoman said: "Lothian Buses confirms it is in commercial dispute with Edinburgh Airport Ltd which has necessitated applying for interim interdict to allow time to resolve matters.
"As this has been obtained, it is Lothian Buses' hope that a way can now be found to resolve the points of dispute."
An Edinburgh Airport spokesman said: "We're disappointed with this decision and will be considering our next steps over the next few weeks.
"Edinburgh Airport, in common with many other large private and public organisations, employs rigorous procurement standards and procedures to ensure the best value for the company and the best service to its customers and passengers.
"The tendering of the bus service concession does just that and we believe it will provide the platform for a true partnership and an increase in the number of passengers accessing the airport using public transport."