Men reported over Forth eggs theft on Inchkeith Island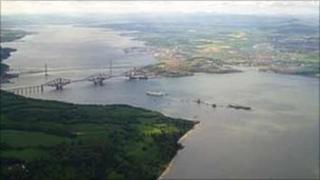 Three Fife men are the subject of a report to the procurator fiscal for wildlife offences following a probe into egg stealing in the Forth.
Fife Constabulary confirmed it was investigating the theft of eggs from nesting sites on Inchkeith Island.
A report has been sent to the procurator fiscal at Kirkcaldy.
Bird conservation group, The RSPB said the theft, which happened in the last few days, included 49 Eider duck eggs and four gull eggs.
Ian Laing, Fife Constabulary wildlife crime co-ordinator, said: "This is a very significant case as it not only involves the theft of eggs from nesting birds, but from an offshore location."
"Sea birds and other species around the Forth should be afforded protection because of the uniqueness of the habitats that attract them to places like Inchkeith, the Bass Rock and further upstream at the mudflats in the vicinity of the Kincardine/Clackmannanshire bridges."
Ian Thomson, RSPB investigation officer, said: "I am very shocked and disappointed because I thought it was a hobby that was consigned to the past."