Samantha Wright murder accused admits CCTV encounter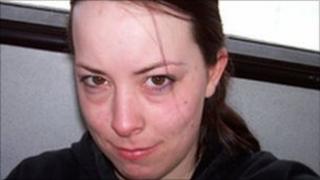 A man accused of murdering a woman and dumping her body in a bin has admitted that street security cameras filmed a "brief encounter" between them.
Robert Chalmers, 59, denies killing Samantha Wright and hiding her remains at his Edinburgh home in June 2008.
He blames another man, Romanian Vasile Ungureanu, for her death.
A jury at the High Court in Edinburgh was shown CCTV footage recorded on the last day the 24-year-old is known to have been alive.
Ms Wright, from Stevenage, Hertfordshire, had been living in Edinburgh and was reported missing by her family in January 2009, on what would have been her 25th birthday.
Her body was found nine months later by police.
Giving evidence at his trial, Mr Chalmers told a jury he could not remember an encounter with Miss Wright, which was filmed in the capital on 12 June 2008.
'Papa Smurf'
"There is a young woman to your right and there appears to be some exchange going on," said solicitor advocate Maurice Smyth, defending.
"Yes, I said to the police that was me," said Mr Chalmers, who was wearing a green pullover and red trousers at the time.
When questioned by advocate depute John Scullion, prosecuting, Mr Chalmers said: "As far as I am aware that was a brief encounter that didn't register."
He told the prosecutor he had to accept that it was Ms Wright's body in a green bin on his patio and that her blood was found on a bed in his house in Magdalene Drive in the Duddingston area of the city.
He added: "All I know is that I didn't take her to the house, I didn't kill her, I didn't cut her up, I didn't put her in the bin."
Mr Chalmers, known locally as Papa Smurf because of his white beard, told the trial he did not recollect taking any woman, young or old, back to his home in June 2008.
The trial heard to get there, Mr Chalmers would have to walk past a busy chip shop and Chinese take-away and along a path overlooked by neighbours' flats.
"Do you think you could walk down Magdalene Drive with someone as vibrant as Samantha Wright without attracting the attention of people there?" asked Mr Smyth, referring to Mr Chalmers' beard.
"No I don't", Mr Chalmers told the lawyer.
"I am aware of being called Santa Claus and Captain Bird's Eye or Papa Smurf," he added.
Father-of-eleven Mr Chalmers also denied boasting to work mates about sex with young women.
Mr Smyth reminded Mr Chalmers of witnesses who said that they worked with Mr Chalmers, renovating a pub in Willowbrae Road, Edinburgh.
They claimed Mr Chalmers told them he had sex with someone called Sammy. "Is there any truth in that", asked Mr Smyth. Mr Chalmers told him: "No."
Questioned by advocate depute John Scullion, prosecuting, about whether he boasted of his sexual exploits, Mr Chalmers replied: "Every man does that on building sites."
The trial, about to enter its fourth week at the High Court in Edinburgh, continues.