Tentsmuir Reserve offers 9,000-year history trek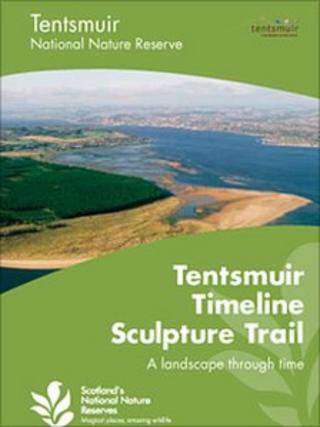 Visitors are being invited to explore 9,000 years of history on a nature trail that has opened in Fife.
Evidence suggests Tentsmuir National Nature Reserve, near Tayport, was the scene of Viking landings, Pict and Roman settlements and even a tsunami.
There are also concrete anti-tank features remaining in some of the dunes at the reserve.
The new 9km trail features 10 sculptures, relics, including a giant arrowhead and World War II memorabilia.
Tom Cunningham, Scottish Natural Heritage's Tentsmuir reserve manager, said: "When I thought of a history trail I hoped that it would help visitors see this amazing spot in north-east Fife the way I do.
"I have the terrific job of seeing it change daily, so to imagine how it's changed over thousands of years is quite awe-inspiring.
"A walk along the trail is a real adventure with many discoveries to make along the way."
The first people arrived in the area during the Mesolithic era 9,000 years ago when it was most likely a low-lying island cut off from the mainland at high tide.
Arrowheads
These early communities would have been hunter-gatherers who survived on a diet of shellfish, fish, fowl and local plants, and probably occupied the area for more than 1,000 years.
Evidence of their lives survives in the tools, shells, bones and the arrowheads they left behind.
About 7,000 years ago a tsunami struck the area. The huge 70ft wave was caused by a massive underwater earthquake off the coast of Norway.
The effect of the tsunami would have been catastrophic for the early Mesolithic people, who had settled and would have dramatically changed the coastline.
The Romans established camps in the moorland there around 80AD. Several centuries later the Picts used parts of Tentsmuir as pasture for their animals.