Samantha Wright murder accused 'sat feet from body'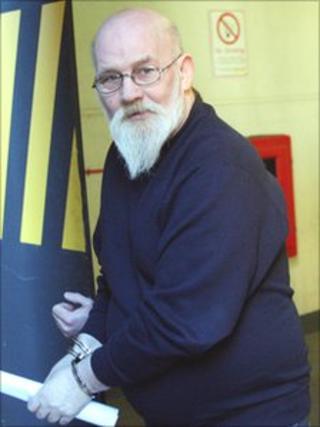 The man accused of murdering Samantha Wright before dumping her body in a wheelie bin, allegedly watched TV just feet from her body.
Robert Chalmers, 59, sat for months in his living room surrounded by air fresheners and with a can of fly spray, claimed prosecutor, John Scullion.
Mr Chalmers denies killing Miss Wright and hiding her remains at his Edinburgh home in Magdalene Drive in June 2008.
He blames another man, Romanian Vasile Ungureanu, for her death.
After four weeks of evidence at the High Court in Edinburgh, the jury are expected to hear closing speeches from prosecution and defence on Wednesday with a verdict expected later in the week.
Miss Wright, from Stevenage, Hertfordshire, had been living in Edinburgh and was reported missing by her family in January 2009, on what would have been her 25th birthday.
Her body was found nine months later by police.
Father-of-eleven Mr Chalmers, known locally as Papa Smurf because of his beard, left the dock for the witness box for a second day on Tuesday.
He repeated his denials of any wrong doing but was accused of lying by prosecutors.
'Fly spray'
He said he had never taken Miss Wright to his home and claimed he always used communal refuse bins for his household rubbish.
He said: "I told you I had no knowledge of a wheelie bin in my back garden up until the time I was informed by police."
He also denied setting up an elaborate security system of cameras and monitors at his home to prevent any casual intruders discovering the grim secret in the back garden he allowed to grow wild, to camouflage the green wheelie bin.
Mr Scullion said: "You are a liar Mr Chalmers. You lie with great confidence but you have been caught out.
"Why don't you just tell the truth? Why don't you tell the ladies and gentlemen what you did to Samantha Wright?"
Mr Chalmers told him: "I never did anything to Samantha Wright."
He agreed around the time of the alleged murder, he "enjoyed a couple of pints" but denied it made him aggressive.
Mr Scullion also showed the accused photos taken during a police search of the house in Magdalene Drive.
"You sat watching TV with a can of fly spray handy and surrounded by air fresheners," he said.
"No, that is not correct," said Mr Chalmers.
The trial continues.