Missing Edinburgh OAP found injured in cave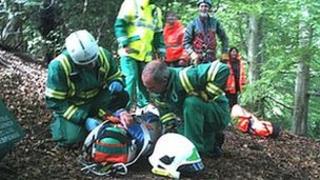 An 83-year-old man has been rescued from a cave in Midlothian after he had been missing overnight.
A search was launched when Jim Salvona, a veteran cave-climber, failed to return to his Edinburgh home.
Mr Salvona was found in a cave in Roslin Glen, where he had fallen and injured his back.
Lothian and Borders Police said the octogenarian caver slipped down a ladder inside the 18ft rock shaft on Tuesday.
The 83-year-old set off on his trip at about 1100 BST on Tuesday and was reported missing by his family at 1900 BST.
He was rescued by Tweed Valley Mountain Rescue Team at about 1030 BST.
Mr Salvona was taken to Edinburgh Royal Infirmary by ambulance.
His rescuers said the pensioner was "quite chirpy" but in a lot of pain.