Nest cam to follow sparrowhawks at Royal Botanic Garden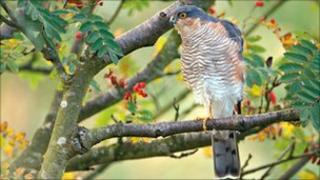 Visitors to the Royal Botanic Garden in Edinburgh are to get an insight into the lives of one of the country's smallest birds of prey via CCTV.
Cameras will be monitoring a resident pair of sparrowhawks at the botanic garden from Saturday until 21 August.
Live coverage will be beamed from the pair's nest into the John Hope Gateway information centre.
The transmission is also being sent to the Scottish Seabird Centre from the botanic garden.
The project, believed to be the first of its kind, is a partnership between RSPB Scotland, The Royal Botanic Garden Edinburgh, Lothian and Borders Raptor Study Group and the Scottish Seabird Centre.
Sparrowhawks are small, agile birds of prey, and are often spotted darting across gardens in search of prey.
As their population size increased they started to colonise cities such as Edinburgh and are now breeding in urban green spaces such as parks, cemeteries and golf courses.
Healthy environment
Tracey Stewart, of the RSPB, said: "Sparrowhawks are one of our smallest and probably most controversial birds of prey.
"Many people don't realise that they live alongside us in towns and cities, but their presence is a good indicator of a healthy environment.
"The pair we are watching at the Royal Botanic Garden Edinburgh (RBGE) has already bred successfully in the past, so fingers crossed they do the same this year.
"It's great that for the first time visitors can not only learn more about these birds but also catch all the action live from the nest courtesy of the CCTV cameras."
Max Coleman, science communicator at RBGE said: "Sparrowhawks have been a great challenge to capture live on camera and will be a highlight of the wildlife viewing opportunities at the garden this summer.
"Visitors will be able to follow their fortunes over the summer and find out about the discoveries being made into sparrowhawk behaviour that may well come out of this exciting project."