Edinburgh Zoo's Donald Emslie resigns after vote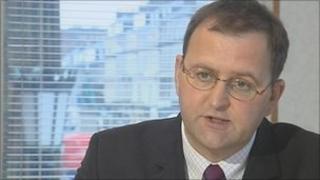 The chairman of Edinburgh Zoo has resigned after members passed a vote of no confidence in him.
Donald Emslie was urged to quit after Royal Zoological Society of Scotland members held an extraordinary general meeting and took the vote on Thursday.
Mr Emslie's decision comes after months of turmoil at the zoo.
Iain Valentine, Edinburgh Zoo's director of animals, conservation and education, is currently suspended and a probe into his case continues.
Gary Wilson, the zoo's chief operating officer, was also suspended but is to return to work as director of business operations after an investigation cleared him of any wrongdoing.
The Royal Zoological Society of Scotland (RZSS), which runs the zoo, said Mr Wilson had been the victim of a "malicious smear campaign".
The zoo is also being investigated by the Office of the Scottish Charity Regulator (OSCR) following the suspensions.
More than 400 RZSS members attended the special meeting.
'Difficult time'
Mr Emslie said: "At the EGM on Thursday evening and to the media afterwards, I said that I had listened to the members views, but acknowledged also that I had obligations as a trustee of a charity.
"The correct course of action was for me to discuss with my board what the next step should be, taking into consideration the interests of the RZSS, the views of the members and of OSCR, the charities regulator in Scotland.
"I was able to do this at a board meeting on Friday, during which I informed my fellow trustees that I would resign as chair and allow the board to rebuild the confidence of the members."
He added: "This has been an incredibly difficult time for all concerned.
"As a board we have been dealing with a malicious and untrue attack on both the society and a member of the senior management team.
"What we found during our investigations has had further serious ramifications for the society and my greatest wish is that the board is now allowed to complete the remaining investigation process and reach a conclusion."
Manus Fullerton, RZSS vice chairman, will take the role of acting chairman, while Hugh Roberts will take up the post of interim chief executive on Wednesday.
Meanwhile pandas Tian Tian and Yang Guang are being brought to Edinburgh under a historic agreement with China in July.
They will be the first giant pandas to live in the UK for 17 years.
The arrival of the pandas is expected to propel the zoo into the international spotlight.