Edinburgh Zoo's new boss Hugh Roberts offers stability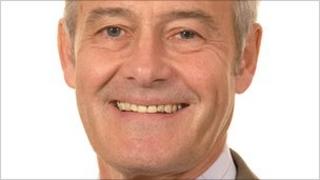 The new interim chief executive at Edinburgh Zoo has vowed to bring "real stability" after months of turmoil at the attraction.
Hugh Roberts, who takes up the post on Wednesday, was appointed following Donald Emslie's departure.
Mr Emslie resigned after Royal Zoological Society of Scotland members passed a vote of no confidence in him.
It is a critical time for the zoo, which is preparing for the arrival of two giant pandas from China.
Senior members of staff at Edinburgh Zoo have faced criticism in recent months.
Iain Valentine, director of animals, conservation and education, is currently suspended and a probe into his case continues.
Gary Wilson, the zoo's chief operating officer, was also suspended but is to return to work as director of business operations after an investigation cleared him of any wrongdoing.
The Royal Zoological Society of Scotland (RZSS), which runs the zoo, said Mr Wilson had been the victim of a "malicious smear campaign".
The zoo is also being investigated by the Office of the Scottish Charity Regulator (OSCR) following the suspensions.
'Commercial success'
Mr Roberts said: "What really matters is forging a strong relationship with members and staff, listening to them, understanding what they are looking for and communicating regularly with them.
"I'm aware of the recent upheavals and the financial pressures facing the zoo, as an experienced interim I deal with such situations quite regularly.
"So my first aim is to bring real stability to the zoo. I want to ensure financial and commercial success while staying true to the hopes and aspirations of the members."
Mr Roberts has previously been chief executive of Sunderland Football Club and managing director of UK brewer Adnams.
He has also been interim managing director and held other senior directorial roles with the Chartered Institute of Environmental Health, Chadwick House Group and Women's Royal Voluntary Service.
Most recently he worked for the Royal College of Paediatrics and Child Health.
According to Manus Fullerton, acting chairman of the board of trustees at Edinburgh Zoo, Mr Roberts is the "right choice" for the role.
Mr Fullerton said: "He has the skills, experience and personal qualities the society needs at this point."
Pandas Tian Tian and Yang Guang are being brought to Edinburgh in July under a historic agreement with China .
They will be the first giant pandas to live in the UK for 17 years.
The arrival of the pandas is expected to propel the zoo into the international spotlight.