Man stabbed repeatedly by gang in Leith carpark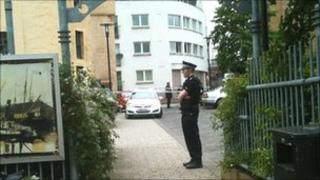 A man is in hospital after he was stabbed several times in the chest in a "violent attack" by a gang of three men and a woman in Edinburgh.
Police are appealing for witnesses to the Leith attack at 1545 BST on Tuesday.
The 35-year-old victim was walking along the Water of Leith near Sandport when he was involved in a row with a group of three men and one woman.
He was followed into a carpark at Quayside Place where he was stabbed.
He was stabbed repeatedly in the chest.
Carrying crutches
The attacker is white, in his late 20s or early 30s, of slim build, wearing a black and orange sweatshirt.
The second man is also in his late 20s or early 30s, white and of slim build, and was wearing a black jacket, blue jeans and white trainers. He was carrying crutches at the time.
The third man is Asian and was wearing a grey tracksuit.
There is no description of the woman.
A Lothian and Borders Police spokeswoman said: "This is a serious incident whereby a man was violently attacked.
"We would appeal to anyone who has any information about he incident, or recognises the description of the three males, to get in touch with us immediately."